The future of dredging estimating
The dredging estimating tool, Estimator for (E4) dredgers, was created to estimate the production rates of dredging equipment reliably, quickly and accurately. With decades of estimating and execution experience, in2Dredging has developed a unique suite of in-house estimating tools, using our certified ISO 9001:2015 quality system.
Originally used for spreadsheets, the E4 series version 2.0.0 was rebuilt in the Python programming language to streamline workflow and control quality. The E4 series version 2.0.0 allows for fast, flexible and consistent calculations, which cannot be achieved with spreadsheets. The tool makes everything easy to read, well-structured, and provides version control as well as seamless integration with our other tools, such as Pumps 'n Pipeline (PnP v 1.6.8) and Subsea Soil Jetting (SSJ v1.1.2).
Our clients call on us for:
Evaluating tenders;
Estimating project duration and budget;
Designing dredging equipment that takes into account several market scenarios;
Benchmarking production rates;
Assessing productivity risks by considering geostatistical input;
Verifying or support claims; and
Optimising equipment and anticipating bottlenecks.
Dredging Estimating Tool Workflow
Figure below shows the dredging estimating tool general work flow of E4. By specifying the vessel name and configuration the database generates the many vessel particulars required for the E4 library. Next the soil properties for either sand, clay or rock are specified. The project details are provided last allowing E4 to calculate the productivity for each physical process. Automatically, the bottleneck is identified to determine the productivity. This assessment generates insight on productivity risks, but also on opportunities for optimisation.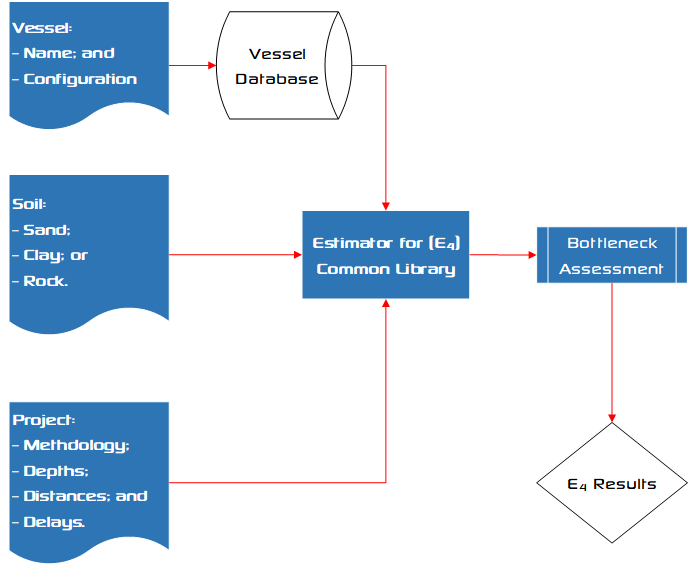 E4 Series Applications
Repeat business from contractor clients proves that the dredging estimating tool, E4 series, are reliable, accurate and fit for lumpsum tendering. The tool suite makes it easy to compare dredging equipment and understand the competition, as well as perform sensitivity analysis based on geostatistics. It provides insight into market conditions and the project risk profile, which is key to remaining profitable.
Owners hire us for a shadow estimate to verify productivity and feasibility at the early stage of a project. More and more owners call on us before going to market, signing contracts and mobilising equipment, allowing them to deliver on schedule and within budget.
Sometimes we are hired after a project to support a claim or verify its legitimacy. As well, we are always able to support or dismiss a claim.
Dredger Types
The E4 series is ready for use for the following types of dredgers:
Cutter Suction Dreger (E4CSD)
Bucket Wheel Dredger (E4BWD)
Backhoe Dredger (E4BHD)
Trailer Suction Hopper Dredger (E4TSHD)
Fall Pipe Vessel (E4FPV)
Jet Suction Dredger (E4JSD)
Mass Flow Excavation (E4MFE)
Water Injection Dredger (E4WID)
Our estimating tools factor in many details, which typically reduce productivity and efficiency, as well as make production estimates reliable and realistic. Since forgetting details results in optimistic and unrealistic productivity and efficiency, E4 considers the core background details without slowing down the workflow. Quality assurance with many verification cases ensures that off-the-shelf tools are fit for purpose.