in2Dredging Pty Ltd (i2D) recently had its management system certified in accordance with ISO 14001:2016 and ISO 45001:2018 for environmental and safety management, respectively. The process didn't always go as smoothly as we would have liked, which is why we want to share the following tips.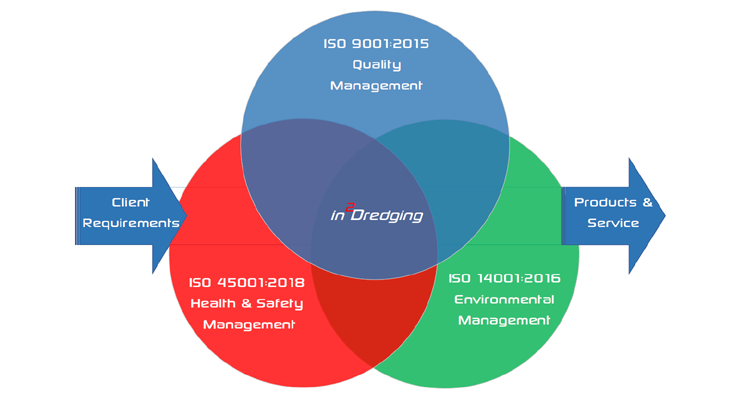 1. Leadership and Commitment
Ensure the company culture and attitude are in line with the management system by truly and genuinely understanding your organisation's needs. Translate your challenges and concerns into efficient and effective procedures and forms, to ensure that the management system works for you. It's a business improvement journey, not a box-ticking exercise.
2. Understand Your Business
As dredging consultants, our core business is to produce high quality documents that are cost-effective and delivered on time. Although the management system assists and supports us, it can never become an administrative burden.
3. Concise Communication
Invest time and energy in writing concisely and clearly. Blaise Pascal famously said in 1657: "If I had more time, I would have written a shorter letter." This is especially true for management systems, but unfortunately too few organisations understand this.
4. Minimal Administration
Each procedure or form, and even each phrase or word, needs to serve a purpose. Overdeveloping management systems makes for heavy administrative safeguards, putting pressure on, or sometimes overlooking, effective safeguards such as elimination and substitution. These effective safeguards can only fall into place by hiring practical experts, being proactive and leaving enough time for matters such as design modifications instead of generating more paperwork.
5. Involve Your Team
Invite team members to provide feedback and systematically review their feedback. Collect feedback and be sure to show your colleagues how their feedback improves your management system.
6. Avoid duplicates
Write it only once, as duplicating is a sin. Duplicates often confuses or bogs down users. Avoid any duplicates as a golden rule.
7. Use Definitions
Accurately establish key definitions and use them consistently. Avoid using synonyms as it creates confusion and makes manuals and procedures unnecessarily wordy.
8. Access
Provide complete and easy access to the management system. We keep our system in the cloud, so our consultants can always access the latest version anywhere, any time.
9. Delegate Responsibility
Delegate responsibilities to people who are hands-on and involved. Make sure they're up to the task. Safe and harmless operations are not achieved with a rigid administrative management system that only works in the office.
10. Certify
Getting your system certified will take it to the next level, as well as provide commercial and organisational benefits. Make the team aware of these benefits and confront them if the system is not followed appropriately.