Return Water Quality (RWQ) Tool
The Return Water Quality (RWQ) Tool from in2Dredging (i2D) predicts the quality of return water, i.e. the amount of sediment contained in the water flowing out of a given reclamation area.
When dredged material is pumped into a reclamation area, the sediment and water mixture flows over the reclamation area and possibly through one or more settling basins. During this process, the material settles and the excess water or return water is drained via one or more outlet into the receiving water body. Depending on the type of dredged material and the dimensions of the reclamation area (and settling basin), the return water might contain suspended particles when returning to the surface water.
A question that often comes up is: Will our reclamation area have enough capacity to hold the amount of dredged material, considering factors such as bulking and rock or particle degradation? Furthermore, are settling basin(s) needed and if yes, how large do they need to be in order to let the fine particles settle and to return clear water or water not exceeding the environmental water quality requirements?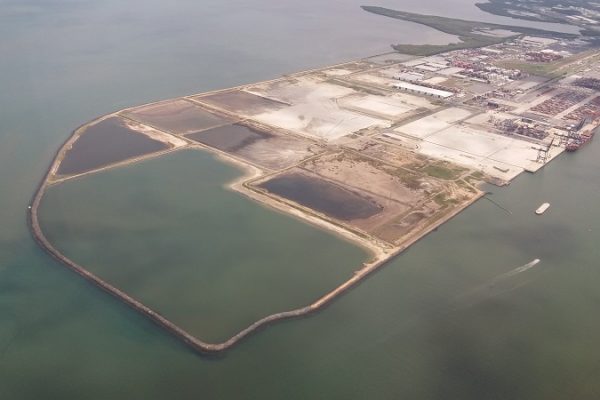 The RWQ model generates a particle size distribution and follows the settlement of each particle size along the length of the sand fill (reclamation area) and/or sedimentation (settling) basin. The model provides the concentration and particle sizes still suspended in the return water. The width, length, depth of fill/and or basin can be optimised to improve sedimentation and return water quality.
When the discharge rate and mixture properties are provided or estimated, RWQ can predict the quality of the return water. The tool was initially built for a specific project and has been developed, fine-tuned and validated ever since. Field measurements have driven the development of the design tool. Only a limited amount of literature on sedimentation and erosion processes was utilised to maintain its suitability for a practical design application. This approach has led to a tool that supports dredging engineers when designing an optimal reclamation area and sedimentation basin(s). The more complex Computation Fluid Dynamic modelling is often unrealistic and impractical as a design tool.
Many projects have shown that the definition of the input parameters drives the accuracy of the predictions. An especially high definition of the fines (the proportion of material smaller than 63 micrometres) is key to providing an accurate prediction. The highest practically achievable fine content definition leads to g/l or kg/m3, which can be linked through analysis of water samples, correlation and extrapolation, to turbidity, and therefore environmental regulations. i2D use rules of thumb and experience to ensure that the return water quality is compliant with the allowed turbidity levels.
Potential Uses
Designing reclamation areas and sedimentation basins
Predicting return water quality
Comparing the amount of suspended solids in return water with allowed turbidity levels
Providing insight into particle segregation on reclamation areas
Determining the ideal discharge rate and mixture density to improve sedimentation rates